Caffè Pedrocchi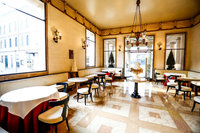 It was one of the many "Botteghe del caffè" (coffee shops).
The Coffee House was born out of the ingenious intuition of Antonio Pedrocchi who trasformed the little coffee shop inherited from his father, into a great building, few steps from the historical seat of the University, open day and night, so that it became the "coffee-house with no doors".
Due to the Pedrocchi strategic location - near the university- it soon had a vast clientele of travelers, students an artists.
During the risorgimento it was the site of numerous political and social encouters.
The first floor was open in the year 1842 on the occasion of the IV Italian Scientists' Congress and gave hospitality to parties, balls, meetings and business reunions.
Every room takes the name from the different pictorial decorations.
Here we can find different rooms called as the colour of the drapes : as the white room, one the walls of which are plaques recording the incidents that took place between university students and austrian soldiers on the 8th February 1848.
Information:
Via VIII Febbraio, 15 - 35122 Padova
+39 049 8781231
segreteria@caffepedrocchi.it
www.caffepedrocchi.it