Prato della Valle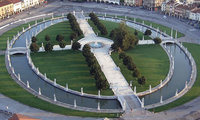 Prato della valle situated near of Botanical garden, is the largest square in Europe.
No wonder it is a popular resting and strolling area for the population of Padua.
From the elliptical shape of the square you can still easily tell thet a huge roman arena once stood here.
the remains were, however, demolished in the 16 th century and used for the construction of the basilica di santa Giustina.
the city gonvernment finally began in the 18 century to build the square in its present form. Around the island, surroundded by a channel, is a row of 78 stone figures, which represents famous citizens od padua.
on saturday there ius a huge market that occupies almost the entire square and june there is lot of activity at the annual theme park on the prato della valle.

Prato della Valle
35100 Padovsa (PD)