The Basilica of Saint Anthony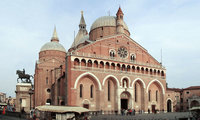 The present Basilica is maimnly the result of three rebuildings which have followed one after in the space of around seventy years : 1238 - 1310. The outside of the basilica is a mixture of lombard, tuscan and byzantine styles: the 8 domes and 2 bell- towers are built in the oriental style. The golden angel on the highest dome is said to turn following the winds, thus giving exact weather forecast.
The basilica draws religious pilgrims from all over the world who come to venerate the body and, in particular, the tongue, kept in a golden reliquary, of anrthony who died in the city in 1231.
Information:
Piazza del Santo, 11 35123 Padova
+ 39 049 8225652
http://www.santantonio.org