The Eremitani Church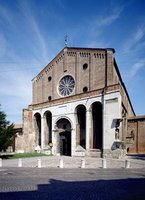 The eremitani church was erected between 1260 and 1306.
In the 14 th century it became one of the most important churches of Padua and was decorated by the greatest masters the active in town. During world war II bombs destroyed most of the church and its beautiful frescoes.
The main damage is in the presbytery area, where only the frescoes by Guariento, painted in the 2nd half of 14th century, reproducing " The life of St. Philip and St. Augustine" still survive on the left wall.
The Ovetari's Chapel was rebuilt after the war. According to the man who commissioned it, the cycle of frescoes with the Lives of St. Christopher and St. James's completed by Andrea Mantegna would have to represent a comparison between the Paduan and the Venetian painting schools.
The two frescoes by Mantegna, "the Assumption of the Virgin Mary" and "St. Christopher's martyrdom", were replaced in the original site after the reconstruction of the church. They were not damaged by the bombing having been removed just before the war.
Information:
Piazza Eremitani - 35100 Padova (PD)
+39 0498756410
http://www.diocesipadova.it/